The Return!

One of the very first posts I made was about my badassed Nike ninja shoes. I loved them so much, I bought a second pair just like them. Then, when I was in Tokyo in May, I picked up a third pair, this time in white with maroon accents.
Today, I got something different.
As cool (and comfortable) as the NIke Air Rift shoes are, they're not exactly "ninja style." Halloween's coming up, and I needed something a bit more authentic for my costume. No, I'm not going as a ninja, but I did need the shoes for my outfit. So what am I going to be?
Here's your hint: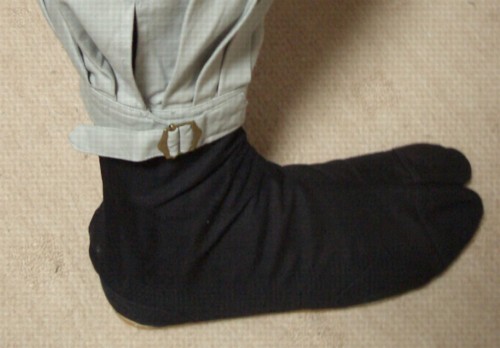 First correct guess will get some sort of prize. (I don't know what yet, but it'll be something interesting, tasty or amusing – or some combination of those three.)
I have a few more items to acquire for my getup to be complete, and there will be pics when it's finished. The school Halloween party is on Sunday (Halloween, duh), and there will probably be pics from that as well.
Watch this space (well, not this exact entry) for the answer, photos and more!
(Or don't, it's your call to make. ^.^)